The site
At over 1,000m altitude, the site itself is home to a dozen glamping safari tents and around 30 camping pitches for tents, vans and campervans. Laid out over 26,000 square metres of Southwest-facing "terrasses", it's perfect for spectacular alpine sunsets down the Rhone valley (and ensuring no one has to watch the neighbours). We are a 20 minute drive from Sion, with public transport links up from Sion railway station directly to the site and linking us to the village of Nax just above, where you will find a bakery, a supermarket, various eateries and Nax's very own artisan brewery!
Alp Safari is deliberately encouraging the vegetation to return to a more natural state – more wild flowers, more long grass, more birds and more bees! Just below the heights of the alpine forests, we have a mix of birch, ash and wild cherry trees that ensure natural shade for almost all the pitches, and are surrounded by farmland or fallow fields and trees. You might get woken up by the birds, and over summer months you will definitely hear the the cow-bells of the young cows in the fields below. In low season when it's quieter, you might even spot the odd deer or fox. And at any time of year, it's a great place for stargazing.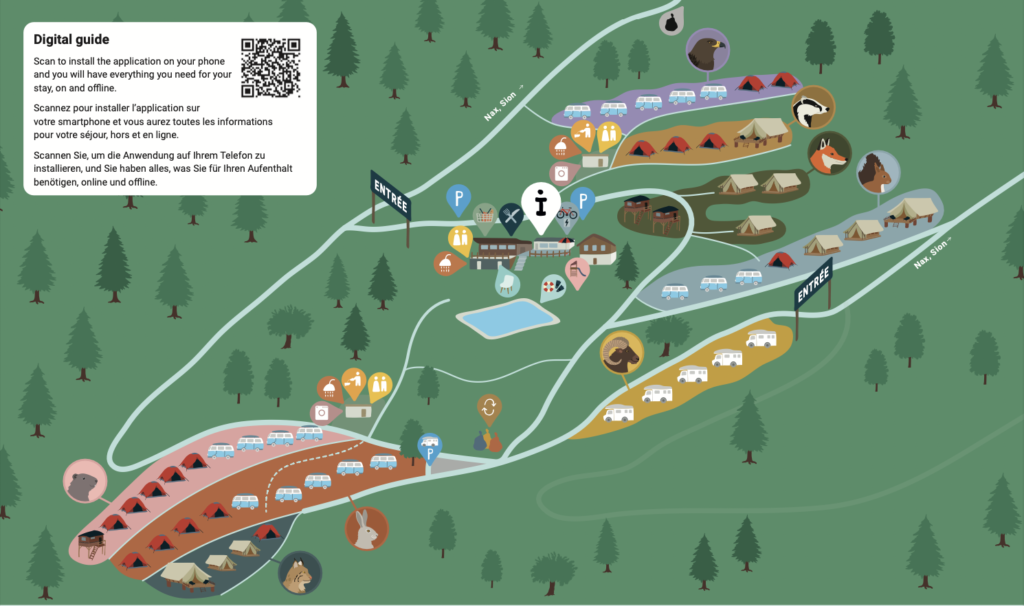 Swimming pool & garden
Alp Safari has a fabulous shaded garden right in the centre of the site, where you will find our open air swimming pool, comfy chairs and deck chairs and even the odd hammock, along with the climbing frames and nest swing. A vintage fussbol is usually somewhere under the trees.
The outdoor swimming pool is only open in the summer months at the moment – pending more requests for cold water swimming! With incredible views over the valley, the basin is solar heated – the average temperature can vary between 17°c to 24°c depending on the weather. We deliberately do not overheat, with a view to limiting the amount of chlorine required… A gated entrance prevents unaccompanied children from accessing the pool area from the garden.
The swimming is open to the public depending on the number of campers, and at peak hours the swimming pool is overseen by a qualified lifeguard.
Food options
We run a small restaurant on site with outdoor seating on two terrasses overlooking the swimming pool and indoor seating in a cosy space complete with a wood-burner for cooler days. Hours may vary depending on the seasons, but typically high season opening hours run from 10h-22h. The Petit Paradis offers individual raclette, assiette valaisanne, fondues are available at all times, alongside a menu du jour or menu de la semaine, a selection of local wines, and an excellent cocktail menu – perfect for watching the sunset from the armchairs on the terrace! Our team are always happy to help with takeaway – whether a plate of fries to go with your BBQ, or the entire meal…
Throughout the year we can also offer a small grocery service where you can find local produce and camping items, as well as a bread and breakfast service for the mornings and various food basket options in low season. Outside high season, apéritif is always an option at the bar, along with an assiette valaisanne and, depending on numbers, weekend raclette evenings. We can also arrange pizza delivery courtesy of Le Centrale, in Nax.
And all the rest…
Washing facilities are located in three wash blocks across the site, so while it might mean a climb, it should always be short! Hot showers, WC, and two washing machines are available. A baby bath is not yet available but we can provide large basins for baby baths outdoors. Two chemical WC points are also available for vans and camper cars. Small fridges are available for hire, and we are happy to lend you fondue or raclette equipment for that outdoor cheese-fest!
Free Wifi is available throughout the restaurant and lounge area.
Wood fires are acceptable depending on Cantonal fire regulations, and fire lighters / fire wood can be purchased on site. We ask that you use a designated pit for wood fires.
Recycling bins are located on site for PET, glass, aluminium and composting (vegetable peelings only so as not to attract wild animals); household rubbish must be disposed of using a Valaisan 'sac taxé' (available from us), and placed in a public 'Molok' on the road out of the site.
Dogs are welcome at Alp Safari – we have one of our own. Dogs are not permitted to enter the garden and swimming pool area, but they are welcome in the restaurant and elsewhere on site, for no extra charge. We do expect dog owners to ensure dogs are kept under control and kept on a lead within the site, that they do not leave any mess, and are not a disturbance to neighbours – please bring poo bags with you and dispose of them off-site – we do have not have dog poo bins on site!